Joe Sonnenburg - Sports Cameraman
Joe Sonnenburg is a Los Angeles based Sports Cameraman. Over the past 8 years he has been capturing images in the local stadiums and arenas in the Los Angeles area. He has experience as a cameraman in the following sports: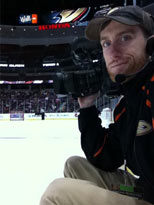 Basketball (handheld cameraman)
Football (handheld and wide cameraman)
Hockey (handheld and slasher cameraman)
Soccer (handheld cameraman)
Tennis (low cameraman)
Volleyball (low cameraman)
Racquetball (low cameraman)
Joe's passion for his work as a sports cameraman exudes in his attitude and professionalism on the job. He would love to work with you on any video production or sports television project.